Reading Time:
3
minutes
Retirement plans can often be confusing. Moreover, the complex rules and regulations can add to their complexity.
In this article, we have discussed different concepts to know some basics about IRA and, more specifically, the Roth IRA.
Moreover, if you're a U.S. citizen living abroad with an IRA, we discussed its different rules.
IRA and Difference Between Traditional Vs. Roth IRA
An IRA is made with a financial institute, and this account allows you to save your money for retirement. You can save your money in an IRA account, and you can receive growth in it without any taxes or maybe with very few taxes.
IRS account is divided into different types. However, we have only discussed the two broad categories of IRA.
Traditional IRA
In a traditional IRA, you add money to your account, and on your tax return, you may be subjected to deduct it. Moreover, your earnings can increase by paying a little tax (tax-deferred) before taking them out on your retirement.


Roth IRA
In a Roth IRA, the money you contribute to your account has already been subjected to tax. You pay taxes on your money before contributing to this account. Moreover, since the tax has already been paid, your earnings will grow tax-free.
Contributing to Roth IRA While Living Abroad
Contributing to Roth IRA and Traditional IRA comes with a limit when you are outside the U.S. You may contribute to Roth IRA while living abroad if you fulfill the requirements placed by the IRS.

If you are an expat and want to contribute to the Roth IRA, we have listed some of the main requirements for its eligibility.
You can contribute to the Roth IRA if you have a foreign earned income.
To be eligible for contributing to the Roth IRA, the IRS observes your MAGI (modified adjusted gross income) to decide if you meet an earned income threshold.
You are not allowed to use FEIE (Foreign Earned Income Exclusion) while contributing to the Roth IRA.
Moreover, you don't necessarily have to get rid of your IRA account if you are not contributing; you can keep this account while living in abroad.
It's also important to note that contribution made in Roth IRA is never taxable. They are tax-free. It only requires you to meet some of the thresholds to contribute.
Married couples who file their taxes jointly and their MAGI (modified adjusted gross income) on the tax return exceeds $12,000 can contribute up to $6,000 for their individual IRA.
Withdrawal from Roth IRA While Living Abroad
You can withdraw your amount from the Roth IRA account the way an ordinary U.S. citizen can withdraw. There's no difference in the rules. Moreover, you can withdraw a standard contribution at any time you want.
Roth IRA Deadline to Contribute
The deadline for both the Roth IRA and traditional IRA usually remains on April 15th. It may change if the date falls under a weekly holiday or any event.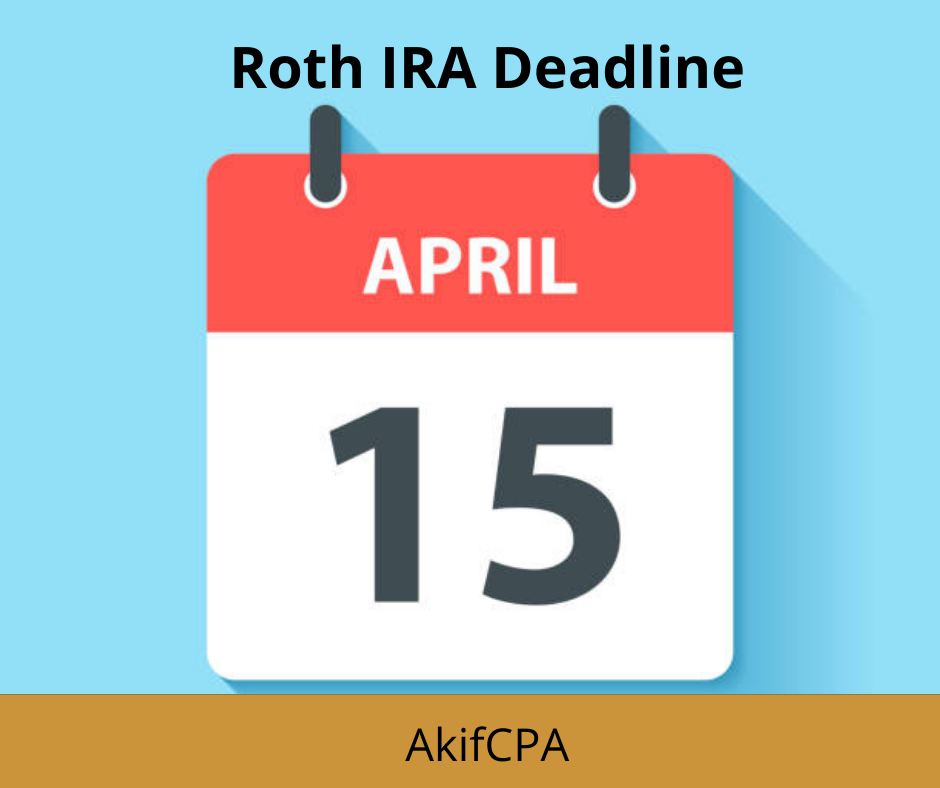 Consult a CPA for an Effective IRA Plan
Taxation deals with a heavy set of rules and regulations. Even if you spend all of your time, you may still end up missing essential points while filing your taxes. This may lead to a potential monetary and criminal penalty as well.
We'd highly recommend consulting a cross-border expert while dealing with your taxation in a foreign country. Moreover, at AkifCPA, we maintained a high level of professionalism while filing your taxes over the years. Contact us now; we are just a click away.