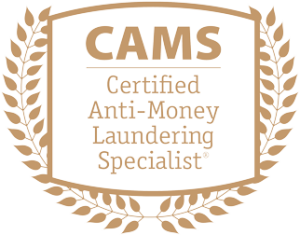 Anti-Money Laundering (AML) Services
The Bank Secrecy Act (BSA) requires all Money Service Businesses (MSBs) to establish and maintain an effective and robust written Anti-Money Laundering (AML) program. We can provide following Anti-Money Laundering (AML) services:
Provide Independent review of AML Anti-Money Laundering Policy
Conduct Risk Assessment for the entity
Conduct comprehensive due-diligence of entity
Review In-depth internal controls relating to the anti-money laundering policy
Review training documents to ensure proper training is being provided
Review AML policy deficiencies and provide guidance and assistance to overcoming such deficiencies.
We are ACAMS Certified with extensive experience in Anti-Money Laundering Business Services.
Independent Review and Testing of AML Program:
Review the MSB's written AML program to ensure it contains the following required elements:
Policies, procedures, and internal controls designed to ensure ongoing compliance,
Designation of individual(s) responsible for coordinating and monitoring day-today compliance,
Training for appropriate personnel and
Independent review to adequately monitor program.
Assessment of Risk:
Conduct Risk Assessment based on the following elements:
Examination procedures completed during scoping and planning,
Review of the risk assessment and
Determine whether the MSB has adequately assessed its risks and incorporated them into the MSB's AML program.
Review Internal Controls:
Develop a thorough understanding of the MSB's policies, procedures, and processes designed to ensure compliance with the BSA. This review should be completed prior to starting any transactional testing. An MSB's AML program must be commensurate with its BSA/AML risk profile. Determine if policies, procedures, and processes:
Provide for program continuity despite changes in management or employee composition or structure.
Meet all regulatory requirements, address recommendations for BSA compliance, and provide for timely updates to changes in regulations
Provide for the identification of reportable transactions and the accurate filing of all required reports, including SAR-MSBs and CTRs
Provide sufficient controls and monitoring systems for the timely detection and reporting of suspicious activities;
Provide for adequate supervision of employees that handle currency transactions, complete reports, monitor for suspicious activities, or engage in any other activity covered by the BSA and its implementing regulations
Address the BSA/AML risks identified in the examiner's and/or the MSB's risk assessment
Provide for collecting and verifying customer identification. Determine through review of documents and discussion whether there are ,adequate and effective policies and procedures for verifying customer identification as appropriate
Provide for creating and retaining records. Does the MSB have processes to ensure required information is obtained and retained for the required timeframe? Is there a review process to ensure adequate records are being obtained
Provide for responding to law enforcement requests. Does the MSB have a process for handling law enforcement requests? Are the appropriate personnel involved in the process? For example, do all requests go through the BSA compliance officer?
Review Internal Controls – Document Transaction Cycle:
Identify and document the transaction cycle of the products and services of the MSB through discussion and observation.
This process should answer the following:
Relating to the MSB's activities so the examiner can evaluate the appropriateness of risk based internal controls, policies, and procedures implemented by the MSB.
Review Internal Controls – Reporting Requirements:
Identify, document, analyze, and evaluate the day to day system of monitoring transactions for BSA reporting requirements. Determine whether monitoring systems are appropriate based on the risks of the MSB.
Review Internal Controls – Analyze internal reporting within the entity:
Determine if senior management or the board of directors, where applicable, is provided adequate reports on anti-money laundering and BSA compliance. Perform an assessment of personnel efforts regarding communicating with senior management or the board of directors, where applicable, on issues of anti-money laundering.
Where applicable, determine if reports are provided to the board of directors or an established compliance committee. If so, review the minutes to ensure discussions have been documented.
Obtain a copy of all reports that were provided to management or the board of directors, where applicable, regarding BSA compliance during the review period.
Determine if personnel are providing sufficient information to senior management or the board of directors (where applicable) to ensure BSA compliance is adequately addressed.
Principal MSB Monitoring/Oversight Procedures:
Review the principal MSB's policies and procedures for monitoring/oversight of branches and agents.
Determine adequacy internal controls through:
Interviews,
Assessment of the principal MSB's risk and
Analysis of the principal MSB's policies, procedures, and internal controls.
Read more about Anti-Money Laundering (AML) and Money Services Business or contact us to get more information about our services.