Reading Time:
4
minutes
Accounting clerks and bookkeepers both contribute to the management of a company's financial records and share the responsibility for documenting, confirming, and reporting business transactions.
The primary distinction between these occupations is that a bookkeeper is typically employed by small businesses to maintain records, whereas an accounting clerk is employed by large businesses and responsible for managing a single account, such as accounts payable.
Let's find out other differences and similarities as well:
A Bookkeeper
A bookkeeper handles the company's billing, generates payment receipts, and issues statements for unpaid accounts.
Following are some of the responsibilities and educational background a bookkeeper holds:
Oversee and manage the main functions within a financial department.
Pay monthly bills and track deductions for the company.
Analyze financial information to aid in making business decisions.
Require a strong knowledge of QuickBooks and MS-Excel to perform job tasks because they mainly deal with data entry work.
Manage employee pay rate and benefit changes while overlooking payroll.
Balance and record financial statements, including total assets, total revenue, expenses, and losses.
Organize accounts, record debits and credits, make purchases for the business, prepare invoices, and communicate with managers.
An Accounting Clerk
An accounting clerk often works under the supervision of a lead accountant. Some of the major tasks for accountants include gathering tax return documents, conducting routine reviews of various financial statements, and performing account analysis.
Here are some responsibilities an accounting clerk holds:
Accountant clerks work in departments like accounts payable or accounts receivable.
Accounting clerks must have an understanding of accounting principles (GAAP).
They collect data and review financial records to update financial statements and general ledgers.
They compute interest fees, document codes, and submit account payments when needed.
Accounting clerks must have some knowledge of computers and accounting software.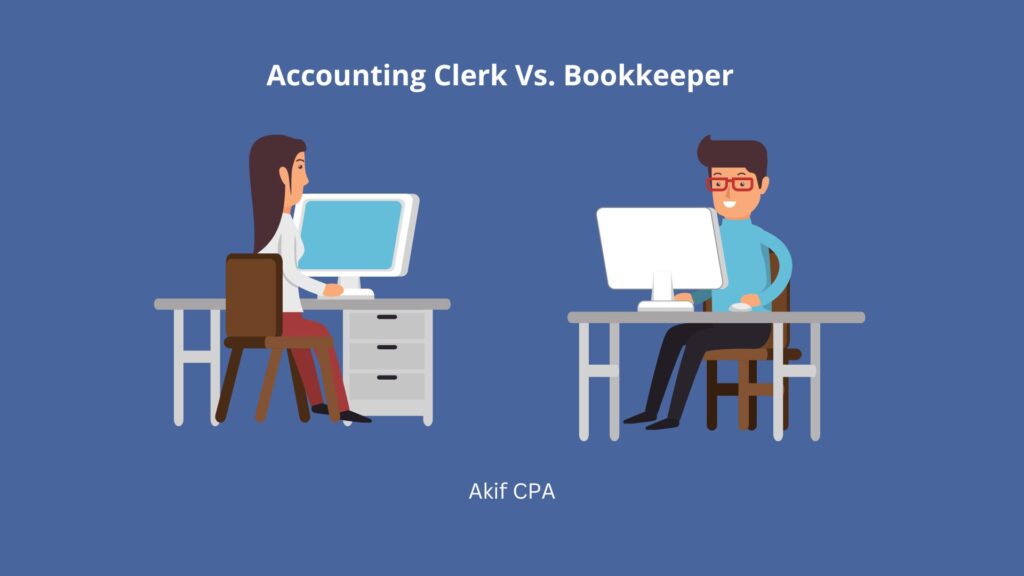 Bookkeeper Vs. Accounting Clerk
A bookkeeper and an accounting clerk essentially perform the same task of documenting financial data. They work in distinct work settings that cater to their specific roles and responsibilities. Some of the key differences and similarities between the two are mentioned below:
Job Responsibilities
Bookkeeping enables professionals to work independently, frequently from homes or tiny offices. They could also decide to work for themselves as independent contractors, offering bookkeeping services to various customers. A bookkeeper could be a person working in a local restaurant who records daily sales.
Contrarily, accounting clerks often do their duties in an office setting among other workers. During regular business hours, they typically work full-time, however, some businesses might allow for overtime when necessary.
For the purposes of processing invoices, managing payroll, and maintaining correct financial records, accounting clerks frequently collaborate closely with other departments within a business, such as finance, HR, and sales.
An accountant clerk could be a person working in the cement industry who is responsible for recording the purchase of raw materials.
You see the primary difference between the two is the size of the business they work in.
Education Requirement
You must have a bachelor's degree from a college or university that is accredited in order to work as an accountant or a bookkeeper.
The experience, credentials, and licensing of an accountant determine their additional qualifications. You can take further specialized exams to be more competent in the field.
As an accounting clerk and a bookkeeper, you'll receive on-site training to perform your specific area of expertise. You can voluntarily obtain certification from the American Institute of Professional Bookkeepers, or the National Association of Certified Public Bookkeepers.
To earn these certifications, candidates must pass an exam that tests their knowledge of bookkeeping principles.
Skills
Accountants and bookkeepers deal with numbers and financial information. You'd need the following skills to work as an accounts clerk or bookkeeper:
should be able to multitask as you need to keep track of cash inflows and outflows
confidence when handling numbers
a keen interest in business and finance
strong teamwork and problem-solving abilities
good IT skills, and willing to adapt to new software
a logical and organized approach
As a bookkeeper, your attention to detail must be unbelievable. Careless errors that initially seem little might eventually result in issues that are more serious, expensive, and time-consuming.
| Difference | Accounting Clerk | Bookkeeper |
| --- | --- | --- |
| Hired By | Mostly big firms | Mostly small businesses |
| Qualification | Associate degree in accounting | High school diploma |
| Job Responsibilities | Generating invoices and bills | Recording financial transactions and financial statements |
| Supervised by | Senior accountant | Mostly independent |
| Job Difficulty | Low | Moderate |
Confused Between a Bookkeeper and an Accounting Clerk?
If you observe closely, there's a thin line between an accounting clerk and a bookkeeper. You never know who will be an advantage for your company. Moreover, both the bookkeepers and the accounting clerk are not highly qualified, they may miss important regulatory compliant which can cause huge financial damage.
So, what's the solution then?
Outsourcing your accounting and bookkeeping department to an experienced team of CPAs is the best solution. With expert guidance, you can rest easy knowing that your finances are being managed with precision and in compliant with all relevant regulations.
Moreover, you may need to spend extra money to hire new resources while making your accounting department fully functional. With the right consultancy, you can save your money as well.