Reading Time:
4
minutes
Halfway through the year, it will be time to once again get ready for crypto taxes. Paying taxes on your bitcoin can occasionally be a complex process for many people. Each transaction involving cryptocurrencies has accounting and tax ramifications.
A bipartisan bill that would create tax exclusions for gains and transactions under $50 has just been filed in the Senate. Transactions of all sizes must be recorded up until the Crypto Tax Fairness Act is passed.
This article guides you enough to prepare for 2023 crypto tax season, read on and get assisted.
How To Prepare Crypto Taxes in 2023?
Your cryptocurrency holdings, including Bitcoin, Ethereum, and others, are taxed. Since the IRS views cryptocurrency holdings as "property" for taxation purposes, your virtual currency will be taxed similarly to any other assets you may own, such as stocks or gold.
Most people who purchase and sell cryptocurrency through online exchanges find that including it in their tax returns is not too difficult. The more active you are, though, the more difficult things can become, similar to the majority of digital currency-related issues.
What you need to know about whatever activities you might have to record to the IRS and how to start preparing for your 2023 taxes is all this article talks about.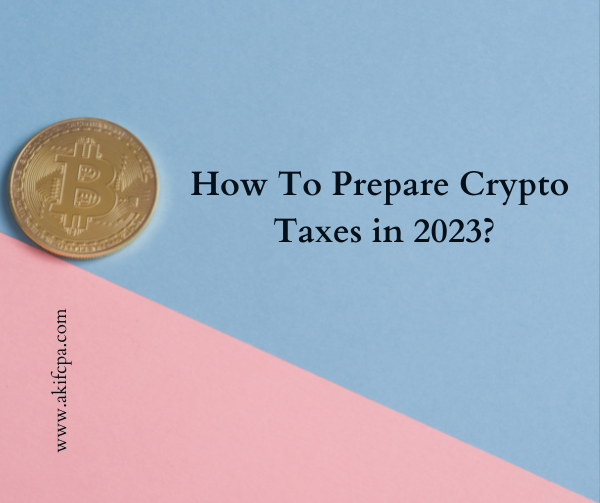 Following are some of the tips you may follow to plan your cryptocurrency taxes in advance.
1 – Start Planning Ahead
You never know what the future may bring for you. Advance planning always works for better strategic decisions.
Tax regulations may demand a lot of paperwork. Delaying your tax processes and waiting for the right time may result in missing important procedures to file your taxes. This further may cause you to miss deadlines and to face monetary penalties as well.
So the best course of action is to start making advance plans.
Get ready for the following details.
Transactions data
Tax Forms you may need to submit.
Note all the deadlines for the required forms.
2 – Keep Good Wallet Hygiene In Your Mind
Everyone who owns digital assets, whether they are busy traders or sporadic owners, should constantly practice good wallet hygiene. Each of your wallets should be labeled with its intended use so that you are clear on what it is for.
If you received the money in Bitcoin this year, you should have a wallet specifically for that purpose. Some may advocate putting all of your cryptocurrency transactions in a single wallet, but doing so makes it harder to identify their purposes.
Your accountant will understand your transactions better if you just carry one wallet.
3 – Consult With A Tax Professional
Even the majority of cryptocurrency investors and traders are relatively new. According to experts, you can run into problems while submitting your cryptocurrency income for taxation right now.
Consequently, expert advice could be required. There are many gaps in the current advice, and the IRS and other agencies may not provide instructions on every circumstance a taxpayer might encounter.
It's critical to find a cryptocurrency tax expert who is knowledgeable about current IRS regulations and has expertise in disclosing bitcoin gains and losses.
Make sure potential tax professionals are aware of the ambiguities in the tax code and ask them if they hold any virtual currency themselves.
4 – Report Your Crypto Income
Virtual currency is sometimes used to pay for services. This could be getting paid in cryptocurrency rather than cash, earning Bitcoin by creating new coins, or getting paid in coins or tokens for completing tasks (Coinbase's Earn rewards program, for instance).
No matter how you acquired it, you must record the cryptocurrency's value in U.S. dollars when you received it and declare that income on your tax return.
According to the IRS, "A taxpayer who receives virtual currency as payment for goods or services must include the fair market value of the virtual currency, measured in U.S. dollars, as of the day the virtual currency was received, in computing gross income."
You should keep track of the fair market value you capture, which serves as the cost basis for that coin. You must therefore balance the cost basis of any cryptocurrency you use to purchase goods or services with the value of that cryptocurrency.
The taxpayer must pay taxes on cryptocurrency income at its fair market value on the day it is received. Here are the most common categories of what is considered crypto income:
Staking crypto and earning rewards
Lending crypto and receiving interest payments
Receiving crypto as payment for providing a service
Mining crypto and earning rewards
Additional details on disclosing virtual currency income in more particular circumstances can be found on this IRS webpage.
5 – Do Not Use Multiple Exchanges
Using several exchanges is a bad idea if you want to make the procedure simple for your CPA. For a CPA, this causes unneeded stress that can be reduced.
This is because it is more challenging to aggregate transactions when each exchange outputs its data in a distinct format.
Not to add that nobody likes errors, which are more likely to be introduced as a result. Once tax season arrives, using a single exchange will make things more consistent and simple to process.
6 – Keep A Track of Your Losses And Report Them
You can occasionally benefit from your bitcoin losses, so they're not always terrible news. You may spend up to $3,000 each year to offset other gains if your capital losses outweigh your gains. This sum is carried over indefinitely to subsequent years.
A significant loss may therefore be to your future self's advantage. When bitcoin is sold in the US after a year of holding it, the tax on the sale is lower.
It's crucial to keep in mind that short-term capital losses first offset short-term capital gains, and long-term capital losses first offset long-term capital gains.
Each scenario may result in different tax implications. Moreover, your CPA will be in a better position to assess your condition for tax deductions with organized data.
You can also consider using automated software to track your cryptocurrency records.
Conclusion
In many ways, cryptocurrency is still the Wild West. When compared to a few years from now, cryptocurrency taxes may seem very different than this year.
There are software options that can interact with your wallet directly to reduce some of the uncertainty in the process.
This will streamline and automate the procedure, making tax season simple. Depending on your unique needs, there are a lot of solid solutions that will work best for you.
It is also important to note that falsely claiming tax deductions may result in penalties as well; we always recommend consulting an experienced CPA for better guidance in this regard.