Reading Time:
6
minutes
Businesses of all sizes require expert financial management to succeed. Deciding whether to hire an in-house accountant or an accounting consultant can be challenging.
In 2020, the top 4 accounting firms had a combined revenue of $154 billion. This number alone shows the huge value these accounting consultants are providing to business owners.
In-house accountants and accounting consultants offer different approaches, levels of expertise, and costs. Let's explore the differences between an in-house accountant and an accounting consultant, and why one is preferable over the other.
Defining In-House Accountant
To handle its financial records, a business or organization employs an in-house accountant on a fixed salary. The accountant's goals match those of the firm, and he/she is in charge of managing its financial operations.
The typical responsibilities of an in-house accountant include the following:
Managing accounts payable and accounts receivable
Keeping financial records
Creating financial statements
Analyzing financial data
Preparing tax returns
Payroll
Defining An Accounting Consultant
Accounting consultants refer to an external accountant or a team of professionals who offer accounting services to small and medium-sized businesses.
They are usually hired under a contract or a service agreement. These accountants are typically employed by specialized accounting firms that specialize in offering such services. For instance, a tax preparation specialist can be consulted for filing your company's tax return.
Moreover, accounting consultant deals with a number of different businesses on daily basis, so he/she comes from a very diversified understanding of business.
In-House Accountant vs. Accounting Consultant
Both an In house accountant and an accounting consultant can manage accounts for your business. They help run a company in accordance with the law requirements. A business cannot run without an accountant. They help you be aware of the company's financial health, which in turn helps you make informed decisions about the company's future.
However, they both have their pros and cons when it comes to the job. Following are some key differences between the two:
| In House Accountant | Accounting Consultant |
| --- | --- |
| They work in the company permanently | They are hired on a temporary basis |
| Need additional training to meet business goals | Consultant holds years of experience to meet business goals |
| Less trustworthy to execute the task | More trustworthy while executing a task |
| Paid fixed salaries | They are paid depending on the contract |
| They are not experts in everything | They can assist in multiple areas of business |
| Less insightful | More insightful |
Why An Accounting Consultant is Better
Most businesses hire an accounting consultant these days to do their job for them in no time. In 2021, it was observed that hiring accounting consultants led to a 2.2% increase in the company's revenue.
This is why more and more businesses are hiring accounting firms in lieu of an in-house accountant, because business owners see tremendous value in hiring them
An accounting consultant is better than an In house consultant in the following ways: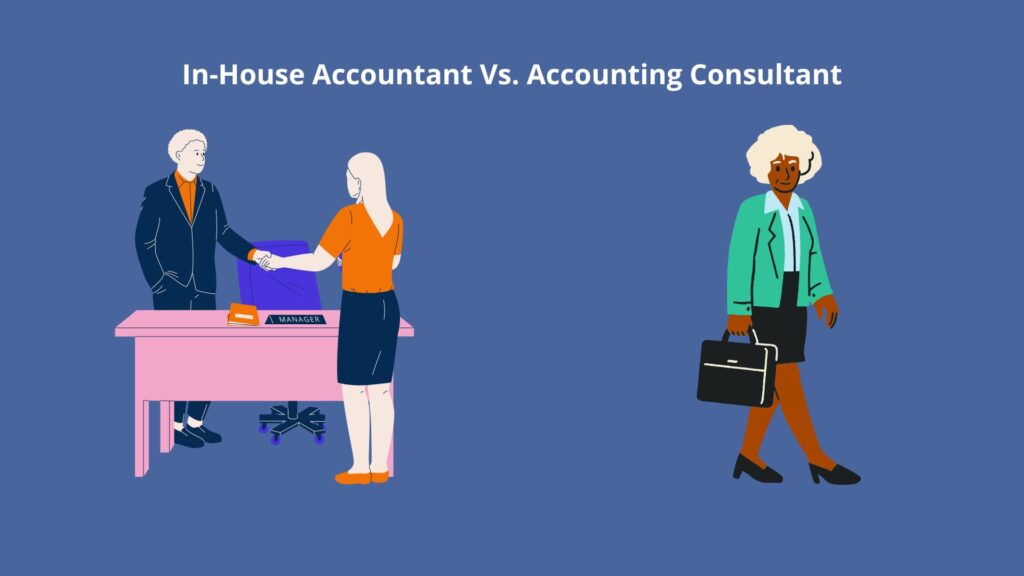 It's More Cost-Effective
One of the biggest advantages of hiring an accounting consultant is cost-effectiveness. When you hire an in-house accountant, you have to pay a fixed salary, benefits, and other overhead costs, and managing a new hire dips into your own operating costs.
However, with a consultant, you only pay for the services you need, when you need them, and you don't have to worry about overhead costs.
Moreover, accounting consultants are experts in the field, and are typically more reliable when calculating estimates of your business expenditure and conducting tax filings. They also carry greater expertise for the dollar, since they've worked with more businesses and entity structures than in-house accountants typically have. They know what they're doing and are better aware of where the tax deductions can be implied.
Furthermore, a business owner is not obliged to pay medical and other benefit allowances to a consultant. However, you are to obliged to pay benefit allowances to your in-house accountant depending upon the employee category.
You Get a Team of Professionals Instead of One
Most accounting consultants carry a team of professionals with ranging expertise from bookkeeping to payroll to industry-specific knowledge like real estate and construction or transportation. One of the core benefits of hiring an accounting consultant is the expertise of a dedicated team. That simply doesn't compare to having one person in-house.
You Get Help in Multiple Areas of Business
An accounting consultant has a wealth of knowledge and experience in accounting, tax laws, and financial management.
They have worked with a variety of businesses in different industries, which gives them a unique perspective and valuable insights that an in-house accountant may not have.
For instance, if you have hired an accounting consultant to audit your financials, and suddenly you discovered that your accounting books are not regulatory compliant, the accounting consultant can also take care of that issue.
In addition to auditing your financials, you can ask your consultant to make your financial books regulatory compliant since he/she comes from a very diversified background of expertise.
Less Time, Better Output
As the consultants have years of expertise in the field, they can produce higher quality results in less time than an in-house accountant.
In-house accountants may require job training for the initial work, but accounting consultants are specialists in the field. They have a vast amount of knowledge about the most up-to-date accounting laws and are aware of all the ways things can be done.
No Management Hassle
An in-house accountant requires the managers to give the accounting team their time and then manage the team. Moreover, it requires the company to focus on the accounting team in order to produce the right efficiency. However, with a consultant, you don't have to go through these hassles.
Accounting consultants have their own team, with each member being specialized in a particular area. In this way, they independently execute the task of managing your company's finances. You only need to focus on the results they are producing!
What Can an Accounting Consultant Help With:
Accounting consultants have expertise in a wide range of areas with years of experience. However, we have gathered some of the areas where accounting consultants are extremely preferable over the in-house accountant.
Entity Formation/Planning
Entity formation or planning refers to the process of establishing a legal entity such as a corporation, limited liability company (LLC), partnership, or sole proprietorship for a business or organization.
Business owners struggle to form the right entity for their business since each entity has its own tax benefits. Moreover, this opens up the company to a lot of regulations as well.
The right tax consultant can help you form an entity for the business that will aid you in tax planning and optimizing costs. However, an in-house accountant lacks expertise in forming these entities since he does not understand and deal with the businesses on regular basis.
Bookkeeping, Payroll, and Other Ongoing Tasks
Accounting consultants typically offer services for any and everything you come across in your day-to-day. This means that ongoing tasks like bookkeeping and payroll can be handled by your consultant. If you already have your books setup, many consultants will offer a bookkeeping cleanup service, no matter what platform you use (i.e. Turbotax, Xero, Wave)
Cost Optimization
A professional consultant can assist you in reducing expenses and optimizing business operations in various ways. By reviewing detailed cash flow reports, he/she can discover safe opportunities for business expansion.
With the help of an accounting consultant, a business owner can precisely understand where the funds are allocated, including expenses like rent, taxes, insurance, interest rates, and salaries.
For example, at Akifcpa, we have discovered many times that business owners don't strategize their taxes, and end up paying thousands of dollars extra in taxes. Once we strategize their financials, it helped business owners significantly reduce their liabilities and increase profits.
Tax Compliance
If you're a business owner, you may find yourself struggling with filing taxes accurately and efficiently. With their help, you can ensure that you're paying the correct amount of taxes: not more, not less. Failing to do so can lead to problems with the IRS, so it's important to get it right.
An experienced accountant can provide you with greater confidence and accuracy when it comes to calculating your expenses and allowances.
While an in-house accountant can also files taxes, he/she lacks expertise in dealing with the IRS. Moreover, a consultant has already dealt with hundreds of clients, so he/she holds better expertise while delivering the expectations to the business owners.
Audit Preparation
All businesses are required to undergo a statutory audit. In such cases, working with an accounting consultant that has a CPA can give your an extra advantage.
Since the IRS gives authority to a CPA to defend and sign your tax returns, it automatically gives an advantage to a CPA over a normal in-house employee,
This can help you avoid receiving notifications from the IRS about errors in your financial statements, which can ultimately save you time and money and prevent potential legal complications.
In addition to preparing for statutory audits, an accounting consultant can also help with internal audit procedures.
Conclusion
If you are still confused between hiring an accounting consultant or employing an in-house accountant, we'd recommend you read our reviews. We have 100 plus five-star reviews by business owners and individuals who have seen the benefits of taking our consultancy.
Let us know which accounting problem you are struggling with, we'd be happy to assist in building your business and reducing costs.
Contact us now, we are just a click away!