Reading Time:
8
minutes
If you're worried you might have errors in your bookkeeping, or are concerned you might need an expert to take a look, you are not alone. Many business owners and in-house bookkeepers have this same worry, and often turn to a CPA for help. Accurate financial data is critical to every element of your business, and since every business maintains a pretty unique protocol for how it handles its accounts, it can be hard to know whether you're doing things right.
Let's walk through some of the key signs it's time for bookkeeping help.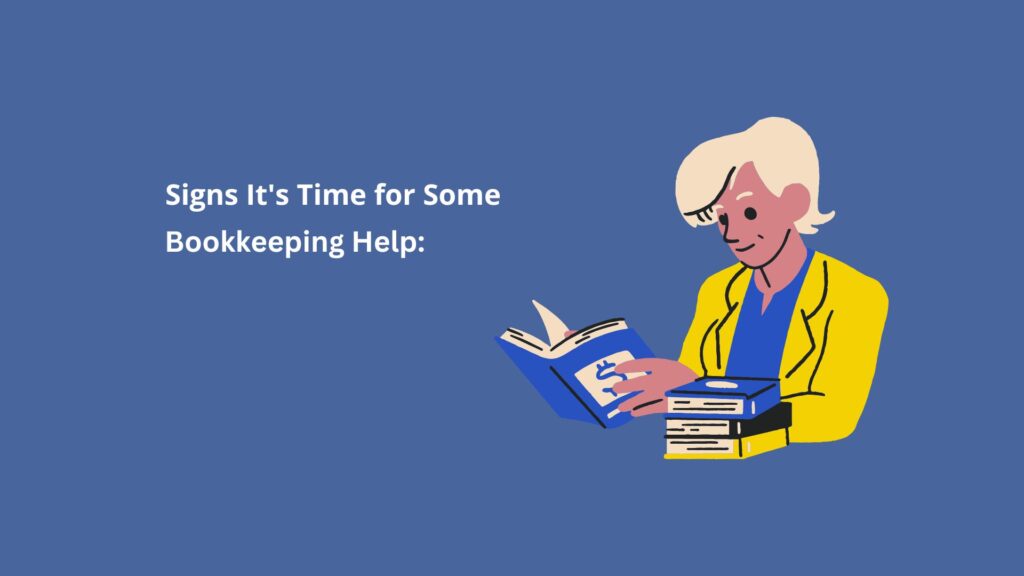 Sign 1: You Have Uncertain Cash Flow
Inaccurate accounting can make it difficult to assess the true financial situation of your business, leading to unpredictable cash flows and potential losses. When your expenses exceed your income, it indicates a cash flow problem that needs immediate attention.
Consequence:
According to CB Insights, 38% of startups fail due to inadequate cash flow management, leading to an inability to secure new capital. Unpredictable cash flows can lead to:
Abrupt investment decisions
Late payments
Imbalance in accounts
Payroll delay
Poor credit rating
Solution:
Cash flows represent a business's success. That is why it's crucial to consult with a CPA who can help you stay on top of your finances while you focus on other responsibilities.
Our bookkeeping services can ensure that your books are accurate and all payments are recorded correctly. As part of this service, we keep track of accounts payable and receivable, follow up on overdue invoices, and help your business pay all the bills on time. We can also offer monthly cashflow reports, so you can get a 360 view of how your business is operating.
Sign 2: You Are Spending Too Much Time on Bookkeeping
If you are running a business, then you have a gazillion other things to look into, like pitching your product to customers and managing company business plans and strategies.
It can take months for you to arrange your books, as it can be a tedious task.
Consequence:
As a business owner, your time is your asset. Moreover, if you are not spending your time in your area of expertise then you end up spending time at the wrong places without even producing efficiency in it.
Let's say that you are managing your accounts on your own and your accounts receivable are imbalanced, you will not have enough time to reconcile the data and run after people to pay you back.
The situation may end with loads of unfinished work and inefficiency in the overall system.
Solution:
You will always face a time constraint because of the hectic bookkeeping process. That is why it is advised to hire an expert who will make your life easy.
Otherwise, doing bookkeeping on your own will slow down your business procedures as you will not have efficient numbers in the end.
Let's say you hire a qualified bookkeeper, who can monitor your accounts receivable to ensure that you are getting reimbursed on schedule. The process makes sure that everything in your business is getting handled by an expert without wasting your time.
Sign 3: You Don't Have Expertise in Finance
To ensure the well-being and protection of your company, it is crucial to assign the task to somebody who knows the work, failing to do so may result in a poor perspective of your company's current status.
Consequence:
If your bookkeeping is not done right, the IRS may send you a notification of the substantial late fees, interest, and penalties that you owe.
It has been observed that 41% of small business owners stated that they handle their financial affairs themselves, while 28% reported receiving an audit notice or notification from the IRS.
Therefore, if you are unsure about managing your financial records correctly or their accuracy, it is advisable to hire a professional.
Solution:
Most of the time, small business owners think that they can manage the cash flows for their company on their own, but as the business grows, they find the tasks to be complex.
Under these circumstances, you need a Certified Professional Accountant who is an expert at managing the books of companies and understands the nuances of how financial accounting works.
Bookkeeping experts might use authentic accounting software to manage your company's data efficiently. They are experts in the field with years of past experience, which is why they are aware of new innovative and encrypted methods of handling your data.
Sign 4: You Have Outdated Books
Ensuring the financial stability of your business is crucial to its success because you need updated records.
Updated records will allow you to pay your employees and contractors on time, secure a business loan or line of credit, bring on investors or partners, and even be able to sell your business if the opportunity arises.
Consequence:
If you don't track your business activity on a daily, monthly, and yearly basis, you will find yourself clueless regarding the condition of your business finances, and missing opportunities for growth, savings, and more.
Some of the consequences of outdated books could be:
going months without recognizing that an invoice is past due because your books are out of order.
it can be difficult to manage your cash flow
Uninformed business decisions.
struggle to accurately assess the financial health of your venture
Solution:
To avoid this, it's important to hire a CPA with bookkeeping expertise who can record your business' daily transactions and keep your books current. This will help you better understand your financial situation at any given moment, which can be crucial when opportunities or issues arise.
Moreover, having up-to-date books means you'll always be prepared for tax season and avoid the stress of scrambling to update your books at the end of the year.
Sign 5: Your Business is Expanding
When your business grows, it means that you have to deal with more meetings, more paperwork, and other important tasks. It is humanly impossible to do everything on your own unless you want to spend your whole life arranging bookkeeping records.
Consequence:
If your business is expanding, then you must put in place a proper system to manage your accounts. Poor bookkeeping can lead to the following consequences:
Mountain of receipts overdue
Misinformed investment and business decisions
You will end up missing out on better opportunities
Improper cash flows
Delay in payroll payments
Solution:
As your business expands, managing finances becomes more complex and time-consuming. Hiring a dedicated CPA can reduce the stress associated with financial record keeping, allowing you to focus on growing your business. It also ensures that you get the best advice on any changes to entity structure, expenses, and budgeting and forecasting to future-proof your business and maximize profit.
A bookkeeper can help ensure that all invoices and receipts are processed correctly and that all transactions are accurately recorded in your financial system. This includes tracking your organization's purchases, expenses, and sales, so you have a complete picture of your financial performance.
Sign 6: Your Financial Books Do Not Reconcile
Reconciling your books and accounts is an absolute best practice in accounting. If you are not doing this, or not doing this completely, it is absolutely critical that you hire a CPA now!
Reconciliation enables you to compare the activity in your cash accounts on your bank statements with the physical documents or invoices you have. It is critical for identifying errors, missing payments, and financial inconsistencies that can have devastating impacts on your business.
However, if you are reconciling books and continue to find gaps or anomalies, there's an urgent need to make your financial books reviewed and get the financial data aligned from all the sources.
Consequence:
It's crucial to complete this procedure as soon as possible after receiving your bank statements. Waiting too long or not finding the time to do it can result in making decisions based on false information, which could cause problems in running your business smoothly.
One of the major consequences of improper reconciliation could be that the IRS sends you notifications and imposes penalties on you, you could be liable for inaccurate expenses, double charges, and overcharges, and you could overdraw business accounts. To save yourself from this headache and to save your money and protect the company, you must reconcile your accounts properly.
Solution:
Hiring an expert in such circumstances might save you from all the hassle of bookkeeping. Our bookkeeping team will clean up your books and report and categorize transactions, verify them against ledger accounts, and verify documentation.
In addition, having accurate financial records can help you comply with legal and regulatory requirements and avoid penalties and fines.
Sign 7: You Have a Profitability Issue
Lastly, we have one of the major issues that businesses commonly face. The profitability issue indicates that your business is running above expectations, you are generating a good amount of sales, but your books are not reflecting those sales in the number of profits.
Consequence:
In such cases, it's important to dive deep into your books and look out for loopholes. You need to be aware of where your money is going, otherwise, you will end up losing a huge amount of profit.
It can result in frauds that occurred in the past, like those of WorldCom, Parmalat, or Enron. where books were not properly protected and viewed, which is why employees of the company ended up stealing millions from the company.
If you don't keep an eye on your profits then people might skim your revenues like what crazy Eddie did, in the financial fraud of his company.
Solution:
Under such scenarios, consult bookkeepers who are trained professionals specialized in managing financial transactions and maintaining accurate records.
They will help you catch errors right when they occur. They can easily find the loopholes from where the money is going and out. It will help reduce fraud in your company.
Sign 8: Taking Too Much Time to File Your Taxes
For businesses, tax season can be a very chaotic time, particularly if your accounts are not being properly managed.
If you don't consistently update your records on a regular basis, your company will undoubtedly have a mountain of receipts to sort through, resulting in late payments and additional monetary penalties.
Consequence:
As a result of poor bookkeeping, a simple task can become impossible and involve more labor hours. In the end, you end up:
missing your filing dates
making errors on your tax forms
paying tax penalties
inviting the IRS to audit your records.
paying the wrong estimated taxes
Solution:
To handle the books of a company, a business should have a proper accounting system in place. You can hire a CPA who can assist you both ways: making your financial books regulatory compliant, and filing your taxes on time.
Sign 9: You Are Paying A Lot of Taxes
It is possible that because of your messy books, you do not have a clear view of your cash flows, which is why you are not sure about what deductions you are eligible for.
A knowledgeable CPA who understands your business's needs can help you throughout the year by identifying deductible expenses and ensuring that you take full advantage of all available tax deductions.
Also Read: What Can I Write Off for my Small Business?
Consequence:
The IRS allows many opportunities to lower your taxable amount. However, as a business owner, since it's not your area of expertise, you mostly remain unaware of these deductions and credits.
For instance, you're eligible for the home office tax deduction but are not aware of this tax law. In such cases, it's natural to feel regret about the years spent without filing this deduction and the money you could have saved.
Solution:
To lower your overall tax payment, bookkeepers keep track of all your transactions and categorize them appropriately, making it easier to identify potential tax deductions such as home office tax deductions.
They may also identify business expenditures that you were unaware of and that are deductible for tax purposes. They will also have a better understanding of the tax deductions that your company is eligible for.
Conclusion
If you find your business showing any of the above-mentioned red flags, then you should seek professional bookkeeping help.
At AkifCPA, we have accounting and bookkeeping experts who can give you valuable insights about your business's financial health, identify areas for improvement, and help you make informed decisions about how to allocate resources.
From 2018 to 2023, the United States' bookkeeping services sector saw an average annual growth rate of 1.2%. As of 2023, there were 311,673 payroll and bookkeeping services companies in the US.
Business owners now hire bookkeepers as a valuable investment in the growth and success of their businesses. Contact us today, and get peace of mind knowing that your financial records are accurate, up-to-date, and organized.