Reading Time:
5
minutes
An element of the American Dream is home ownership.
There is something unique about exchanging a lease for a deed, regardless of whether you want a log cabin in the middle of nowhere, a suburban Cape Cod with a white picket fence, or a city apartment in the sky.
However, making that move can be expensive and complicated. It's challenging to accumulate enough money for a down payment and then maintain mortgage payments, not to mention the upkeep bills that are now entirely your responsibility.
You must submit Form 1040, U.S. Individual Income Tax Return, or Form 1040-SR, U.S. Income Tax Return for seniors, and itemize your deductions on Schedule A (Form 1040) to deduct expenses associated with owning a house.
You cannot claim the standard deduction if you itemize.
This article offers tax information for homeowners on the deductions they may be eligible for.
You can live in a house, apartment complex, cooperative, mobile home, houseboat, or trailer as long as it has a bathroom and a kitchen.
Itemized VS. Standard Deduction
Before discussing homeowner deductions, it is critical to comprehend the distinction between standard and itemized deductions.
By lowering your taxable income, both forms of deductions can lessen your overall income tax burden.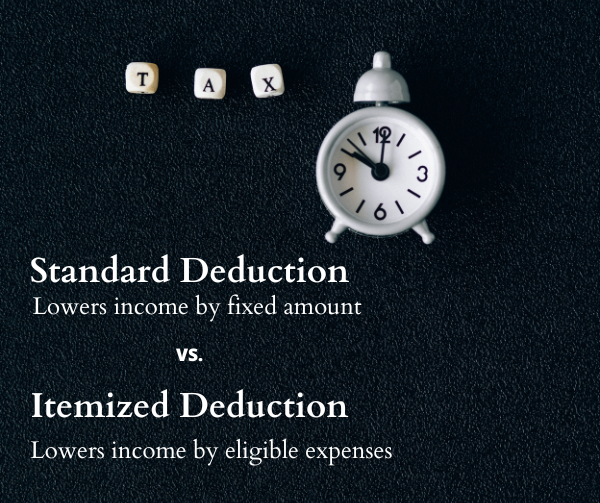 Standard Deduction
Standard deductions are the types of deductions that lower your taxable income by a fixed rate.
All tax filers have access to the standard deduction according to the Internal Revenue Service (IRS). The standard deduction is broken down as follows for 2021:
$12,550 if you're single or married and filing separately.
$25,100 for married couples filing jointly or a qualified widow or widower.
$18,800 for the head of the household.
If you are blind or 65 or older, your standard deduction rises. If you're single or the head of the family, the amount rises by $1,650; if you're married or a qualified widow(er), it rises by $1,300.
Itemized Deductions
Itemized deductions are the types of deductions that lower your taxable income by defining different categories for yourself.
You can lower your taxable income by a certain amount using the standard deduction.
You exclude the standard deduction when you itemize deductions, which includes tax incentives for homeowners.
Instead, the total of your itemized deductions will reduce your tax liability by offsetting your taxable income.
Make sure your total itemized deductions are more than the standard deduction if you plan to take advantage of tax advantages for homeowners.
Otherwise, using the standard deduction to minimize your tax liabilities as low as possible makes more financial sense.
Tax Deductions for Homeowners
It can be incredibly expensive to purchase a property.
There is the down payment first. Closing expenses follow, which include charges for an appraisal, inspection, and title search. Once you purchase it, the costs escalate further and include repairs, taxes, and insurance.
However, there are some tax advantages to property ownership. Homeowner expenses that are tax deductible can lower your income tax obligation. In the coming section of the article, we have mentioned a few things that can be deducted from taxes.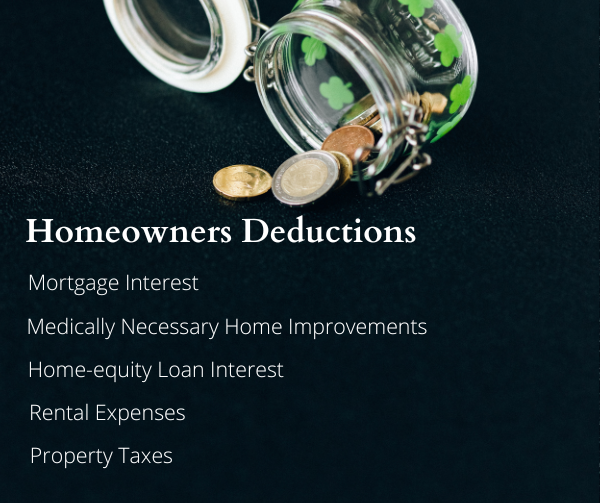 Mortgage Interest
The interest you pay on your mortgage is tax deductible, within certain parameters, if you itemize your deductions.
You may deduct mortgage interest payments on up to $1 million in loans used to buy, build, or improve your primary residence and a secondary residence if you bought your house on or before December 15, 2017.
If you bought your property after December 15, 2017, the TCJA's restrictions will apply, and you can only deduct the interest on debt that was used to buy your home up to $750,000.
The $750,000 loan cap will expire in 2025. The $1 million cap will thereafter be reinstated. Both single taxpayers and married couples filing jointly are included in these figures.
Married taxpayers who file separately receive a halving of the maximum.
Home-equity Loan Interest
You can borrow against the equity you have in your home with a home equity loan, which functions as a second mortgage. You have $50,000 in equity if your house is worth $350,000 but you still owe $300,000 on it.
Your home equity loan interest may be tax deductible, just like your first mortgage. A home equity loan has no restrictions on how you can use the money, but the interest is only tax deductible if you use the funds for significant home renovations.
Before 2018, you could write off interest on home equity loans totaling up to $100,000.
Any use of the funds would qualify for the deduction; for instance, homeowners may write off the interest on home equity loans used to settle credit card debt or contribute to the cost of their children's college education.
For the years 2018 through 2025, the TCJA removed this unique $100,000 home equity loan deduction.
Medically Necessary Home Improvements
If you install special equipment or modify your house for medical reasons, you can be eligible for a medical expense deduction.
If the update itself is medically required, costs for maintenance and operation of the upgrades are also deductible as medical expenses.
However, if they aren't medically required, home modifications that merely make it easier for seniors to live in their homes (such as "aging-in-place" upgrades) aren't tax deductible.
Many accessibility upgrades, including building entrance ramps, enlarging doorways, or adding rails and support bars, typically don't enhance a home's value and are entirely deductible.
Rental Expenses
What if you rent out a portion of your house, like the basement or a room? Although you can deduct costs for the rental space, you must pay taxes on your rental income.
Insurance, repair and upkeep fees, property taxes, electricity, supplies, and more are all possible tax deductions.
The portion of your home that is used for rentals, as well as any furniture or equipment in the rented space, can all be written off as depreciation.
The Schedule A rental-space deductions are also not itemized deductions. Instead, you deduct them from your rental income and claim them on Schedule E (Form 1040).
Property Taxes
The TCJA made some significant changes, one of which was the $10,000 yearly ceiling placed on the itemized deduction for property tax and other state and local taxes, which had never before been restricted.
Homeowners may deduct up to $10,000 of their total property tax, state income tax, or state and local sales tax payments from their gross income from 2018 through 2025.
This $10,000 cap does not take inflation into account and applies to both single and married taxpayers.
You cannot deduct escrow funds kept for property taxes until the funds are utilized to pay them, in conditions where your mortgage lender ordered you to establish an impound or escrow account.
Conclusion
Having a home has several financial advantages. As a homeowner, it's critical to approach tax season with a focus on maximizing the value of your house.
It's a good idea, to sum up, your tax benefits because there could be thousands of dollars in tax deductions left on the table.
To determine which option is best for your tax return, add up your itemized deductions and basic deduction.
If you own a home, you should spend some time learning about your tax deductions.
It is also important to note that falsely claiming tax deductions may result in penalties and monetary charges.
To make sure you are taking full advantage of all the tax deductions available to you, it is advised to consult a tax professional if you need assistance with the specifics of your situation.