Reading Time:
5
minutes
Digitally native international online marketplaces like Amazon and Shopify, as well as established brick-and-mortar shops that have increased their e-commerce like, Target and BestBuy, have both contributed to the expansion of e-commerce.
While the operational aspects of each of these merchants are comparable in terms of the fundamentals of e-commerce, they have also carved out their distinct niches in the e-commerce market by concentrating their product lines or creating distinctive fulfillment techniques.
Global retail e-commerce sales reached USD 4.28 trillion in 2020. That amount is projected to increase by an astounding 47% by 2024, reaching USD 6.3 trillion.
If those figures are any indication, there is a huge market opportunity for retailers all around the world in selling overseas.
Tapping into the opportunity of worldwide commerce is difficult due to the many aspects of international selling, including currencies, languages, pricing, domain names, payment methods, customs, shipping, and compliance (to mention a few).
These shouldn't be obstacles in the way of high-growth firms' efforts to diversify their consumer base and enter new areas.
This article will be talking about the tips for marching and expanding into the U.S., especially if you come from a Canadian background and works as a Canadian Amazon, Shopify, or online store.
Tips for Growing Your E-Commerce Business In the U.S.
Selling across borders into the US makes solid commercial sense for the majority of Canadian online retail firms.
The US continues to be the biggest, easiest-to-access global market, a well-known neighbor, and a successful trading partner.
In the US, consumer confidence is still high, helped in part by rising household earnings, high disposable income, and rising personal savings rates.
The growth of consumer and business online spending at home and abroad is being driven by future confidence in the US economy and rising discretionary spending, especially when compared to other established e-commerce markets like Western Europe and Japan where consumer confidence and gross domestic product (GDP) lag the US.
Here are some of the tips that can help you grow your e-commerce business in the United States:
1. Encourage E-mail Marketing
A simple strategy for boosting sales and expanding your business is email marketing. However, you must first create your list of the people who can potentially become your customers.
The more you can expand your list, the more prospects you can connect with and the conversions you will experience will increase.
Email marketing regularly outperforms all other marketing channels as the most direct and efficient way to engage with leads, nurture them, and convert them into customers.
2. Prioritize Digital Trends
It can be difficult to accurately invest in important digital trends while avoiding fads that won't produce long-term results, particularly when entering a new geographic market.
For instance, while they are not fads, Canadian firms entering the US market should not place a high priority on voice commerce or augmented reality.
The emergence of social media and mobile commerce, on the other hand, are "mega-trends" that encompass other significant digital developments.
If you're just starting to invest in mobile and social, you're probably falling behind your customers because they are becoming "table stakes" for digital commerce.
3. Cross-Border E-Commerce Operations – a Priority
A successful overall e-commerce strategy aimed at US consumers must include customer acquisition campaigns that highlight the quality and variety of Canadian products as well as security upgrades to increase consumer confidence online.
But it's crucial to first get your cross-border operations in order before moving forward with finding and interacting with new prospects in the US. While e-commerce offers amazing chances to scale your business, ignoring your cross-border operations may potentially affect your business.
To start with, we'd recommend talking with a professional cross-border e-commerce CPA who holds years of expertise in dealing with cross-border e-commerce issues and legal requirements.
4. Invest in User-Generated Content
To maximize conversion, cut customer acquisition and retention expenses, and boost US consumer confidence, invest in user-generated content and influencers.
Marketing has always been about giving consumers what they want while communicating your message as well. In user-generated content, consumers are speak about themselves. The more you invest in the consumer's pain points, the more return you can expect.
5. Polish your Customer Service
Customers are more inclined to buy from you because it provides them greater peace of mind when they receive good e-commerce customer service when you are easily contactable.
Remember, we live in a world where people expect fast responses.
For this reason, Chatbots—automated software systems that enable online chat without human interaction—are a great option for letting your consumers quickly contact you with their inquiries.
Your conversions should rise if you can respond to a query promptly because there is a larger likelihood of making a sale.
Tax Considerations for your E-Commerce Store to Increase Revenues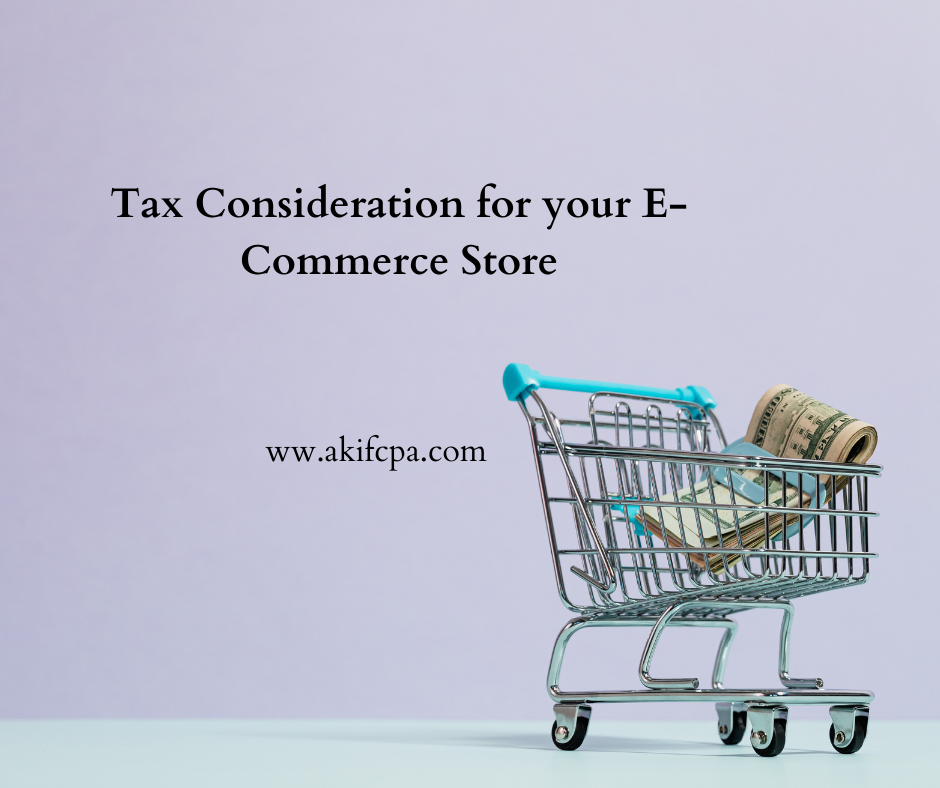 While there are many important sections that you may need to focus on for your e-commerce business, however tax processes are mostly ignored.
Claiming tax credits and deductions can increase your revenue and profits. We'd recommend consulting with a tax professional and making a complete audit of your taxes to analyze if you are paying unnecessary taxes.
In the coming section of the article, we have focused on some of the tax filing processes you may notice to file accurately.
How does E-commerce Tax work in the U.S.?
If you are a US citizen or a permanent resident, the US will tax using the following two methods:
Passive Regime:
You may liable to pay 30% tax if you generate a passive income that includes categories like dividends and interest.
Active Regime:
The US system treats Active Income differently than Passive Income. It may directly relate to businesses operating in E-commerce as well.

You will be liable to pay active income tax rates if you are doing business in the US and generating income from it under the two following conditions:

a) You have a "dependent" in the US that increases your business.

b) The dependent is involved in the activities to further your business.

If you sell products using amazon FBA, this will not be categorized under "dependent agent" since FBA is not directly involved, it's just a medium and you will NOT be subjected to US taxes.
Sales Tax Processes to Follow to Follow if you are Selling in Canada and the US
Both the US and Canada have different tax systems. For example, the US tax system is highly dependent upon states while regulating taxes. However, most of the sales taxes in Canada are operated by the federal.
The general process to file your taxes will be as follows:
Frequently Asked Questions
Q. What are the key points for selling retail?
A. The majority of business concepts are born when an entrepreneur recognizes a demand for a good or service. An entrepreneur or small business must take into account four primary customer needs. These include cost, quality, convenience, and choice.
Q. Which is the most used e-commerce site in the USA?
A. The top American e-commerce juggernaut with the biggest market share is Amazon.com. In 2020, Amazon.com recorded net sales of $112,477 million in the United States. Walmart comes in second with net sales of US$41,114 million. With sales of 18,674 million US dollars, Bestbuy.com is in third place.
Q. Can I sell products from Canada on Amazon USA?
A. You can, indeed! You can quickly start selling your products on the Amazon USA market by opening an account as a seller and enrolling in Amazon FBA.
You can quickly learn how to sell on Amazon USA from Canada if you're a Canadian business or reseller.
Conclusion
It's a fantastic opportunity to develop your business and income by selling in the USA from Canada. The process to get started is straightforward, and the benefits outweigh the drawbacks.
If you choose to sell in the USA, you may either do it yourself or employ a prep center to streamline the procedure and remove certain common obstacles. You must ensure that your e-commerce store is constantly expanding as the owner.
If you aren't evolving in these quick-changing times, you'll find that you eventually reach a state of stagnation.
Understanding what your consumers want and experimenting with all the cutting-edge technology accessible is essential if you want to enhance their entire experience and eventually support the yearly growth of your e-commerce business.